Rong Lake & Shan Lake walking trip at night
It's a good chance for our guests to follow our vacation assistant to stroll along the Banyan and Cedar lakes which are the highlight of Guilin's two Rivers and four Lakes. Today's two Rivers and four Lakes, traditional and modern ideal mode that combines together, which is the harmony and unity of the natural landscape and human landscape, as well as the perfect combination of the tourist city and historical, cultural city.
We will see an old but lively banyan tree around Banyan Lake and two beautifully ambilight pagodas around Cedar Lake. Here, water,rocks, plants, pavilions corridors and bridges are laid out artfully, like the freehand brushwork in a traditional Chinese painting. We can also see the realistic statues of historical celebrities stand along the shores and attractive relief sculptures carved into the stone, telling us stories from Guilin's long history.

Travel time: 90  Minutes
Travel arrangement: Around 19:30 everyday
Gather Location: 1 Floor in the hotel
Museum Trip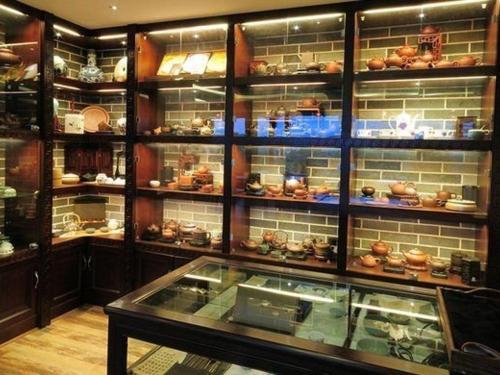 The owner of the hotel has extreme fanatical pursuit of art, like to collect a variety of topics about tea culture and art of historical relics. 2rd floor private museum will be open for the guest.

Hotel with all kinds of treasures museum, as early as han dynasty unearthed cultural relics, ceramics of tang and song dynasties. There are many celebrity virtuosi calligraphy and painting and all kinds of valuable are recommended.Admiring the cultural relics, can't help a person plaint need how many thoughts and energy to collect on this. As vice President of guangxi art collection association jiang is willing to work with our hotel distinguished guests to share their art collection.
If you are living in my hotel guests, will have the opportunity to get we offer private museum trip.

Museum: nameplates, the original poster is people fall in love collection of about twenty years, here holds the Han, Tang, Song, Ming and Qing dynasties of all kinds of miscellaneous pieces of antique, on display GuTao, ancient porcelain and old pot of treasures, and the most ancient horse home color pottery kiln is typical of the prehistoric neolithic civilization artifacts. Each items with a touching story collection.
Keep time, tasting the spring and autumn, here will let your thoughts through one thousand, collection of happy feeling.

Travel time: Around 30 Minutes
Travel arrangement: Casual
Gather Location: 2 Floor in the hotel