Li-river cruise book service,tickets,schedue,price
If you stay with our hotel, we are happy to help you book the li-river cruise. There are some difference between high season and low season. Also in 2016. All of the boat has been update to three stare and four stare. The company of li-river will change their arrangement all the time. Before you book please double confirm with us.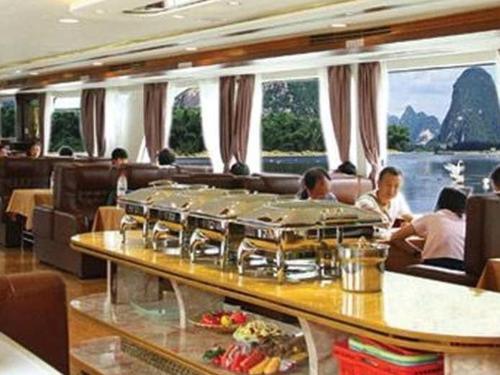 The Li River cruise from Guilin to Yangshuo is the centerpiece of any trip to northeastern Guangxi Province. Gorgeous Karst peaks give you surprises at each bend of the limpid river under the blue sky. Water buffalo patrol the fields, peasants reap rice paddies, school kids and fisherman float by on bamboo rafts. With its breathtaking scenery and taste of a life far removed from the concrete metropolis, the scenery along the river become one of China's top tourist destinations.
The trip starts from the wharf south of Liberation Bridge in Guilin downtown area. Otherwise some agencies will transport tourists to take a one-hour bus ride to the Bamboo River Wharf (Zhujiang Wharf) or the Millstone Hill Wharf (Mopanshan Wharf) to start the cruise from its essential part.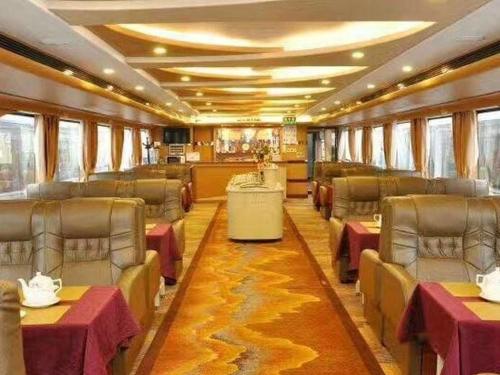 Note: English-speaking tour guides are only available on the cruises which depart from Zhujiang Wharf, so foreigners are suggested to leave from the wharf for their convenience. As of July 1, 2017, tourists embarking on the cruise ship from Zhujiang Wharf are required to show passports when booking ship tickets and boarding. They need to get to the wharf at least 30 minutes before departure to leave enough time for passport inspection. Those who can't provide valid passports should go to the police station nearby to ask for a temporary ID proof.

The Li River cruise is over 52 miles (83 kilometers) long and is estimated to take four to five hours. The eye-feasting landscape and country scenery will never disappoint you.The river generally has three sections. Various attractions like peaks and villages along the river have interesting descriptive names, which calls for much of your imagination to see what it is like. Listening to tour guide's legendary stories about the attractions is a delightful experience when you are appreciating the landscapes. Most are mystical fairy and love stories.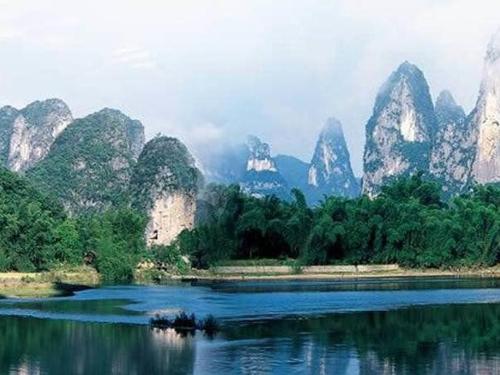 Three star cruises
:
The most popular cruise is the 3 stars cruise formerly known as deluxe cruise. They offer a covered air conditioned seating area on the first and second floors, an English speaking guide shared with all passengers (provided by the cruise company, more focussed on Chinese travellers) and a pretty basic lunch. There are several models of this boat on the river. The ones we book are the newest ones launched in April 2016. All 3 star cruise boats now leave from the Mopan Shan wharf. Luggage can be taken aboard with you.
The schedule
08:00 bus and English guide pick up our hotel
9:30 leave from Zhujiang dock
12:00 lunch time
13:30 arrival Yangshuo
16:30 bus pick up leave from Yangshuo
18:00 back our hotel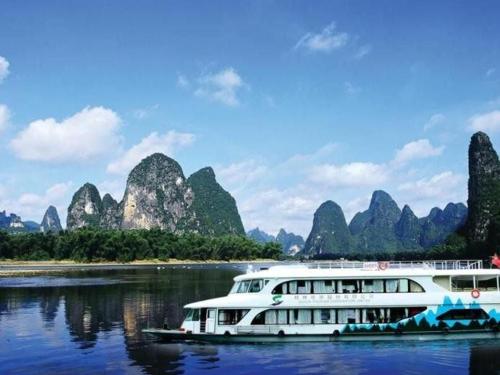 Price and book service:
Its difference between high season and low season:
Adult price:  420rmb-450rmb per person
Kids:1.2-1.5m: 220-240rmb per person
Kids:under1.2m : 0RMB
Please notes: the travel agency only accept cash. There are some bank of china near by Aroma tea house.
If you decided to join these trip, please book the seat early. At least one night early. August and October will be busy and the tickets sold out quick!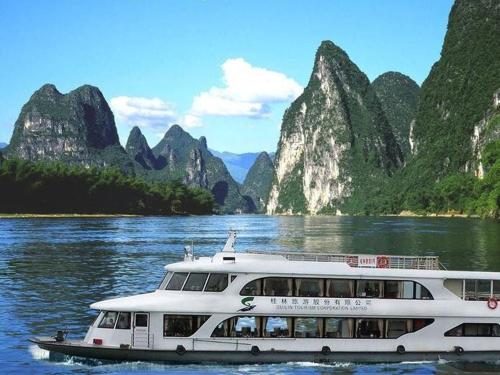 Children
Children discounts are based on height rather than age. All passengers above 1.5m require an 'adult' ticket. Persons between 1.2m-1.5m require a 'child' ticket. Persons below 1.2m can join for free. They are not entitled on a seat but most often there are seats available because people will spend most time on the top deck. A guaranteed seat for your child requires a child ticket. Please note that they are very strict with the height up to the single centimetre and undervalued tickets will incur full charges of the required ticket but when fully booked they may have no adult seat.

Very important:
Please note that with all cruise options the guide and lunch can be pretty disappointing although that depends on expectations of course. The English speaking guide aboard is hired, appointed and paid by the cruise companies as a mandatory safety precaution to assist foreign travellers who do not speak mandarin in case of an emergency. These guides are paid very little and will try to earn commissions on anything. Please note that these are not our guides, though you could book one of our guides to join you, and they might try and up-sell by saying the lunch is very little or very poor so you'd order from an expensive commissioned menu. They may appoint you to the 1st floor and try to up-sell seats on the 2nd floor (3 star cruise) at an extra charge. They might say Yangshuo has nothing else to offer to sell their own afternoon tour.